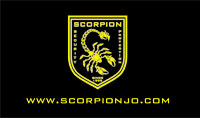 Scorpion For Defense.Security & Protection < Security Companies In Jordan < شركات امن وحماية في عمان
للإتصال بــ
Ali AlZaboun - علي الزبون
العنوان
Amman - Jordan - Gardens St. Complex 165. 5 Floor.
سكوربيون للامن والحماية شركات الامن والحماية في الاردن
سكوربيون للامن والحماية - افضل شركة امن في الاردن
ارقام هواتف شركات الامن والحماية في الاردن
شركات امن وحماية في عمان الاردن
شركات امن وحراسة في الاردن
شركات امن وحراسة في عمان
افضل شركة امن وحماية في عمان
افضل شركات الامن والحماية في عمان
شركة امن وحماية في الاردن
شركة امن وحماية في عمان
سكوربيون للامن والحماية - افضل شركة امن في الاردن
شركات امن في الاردن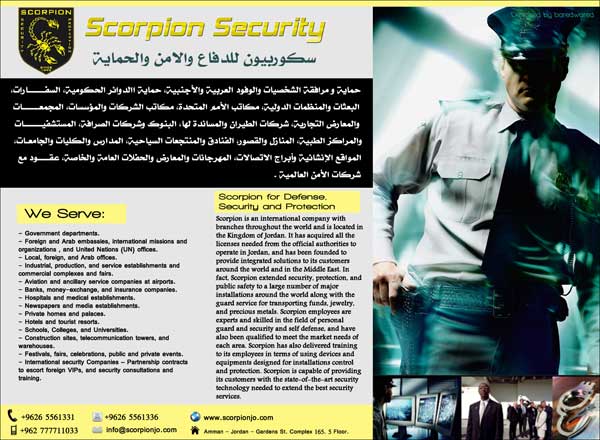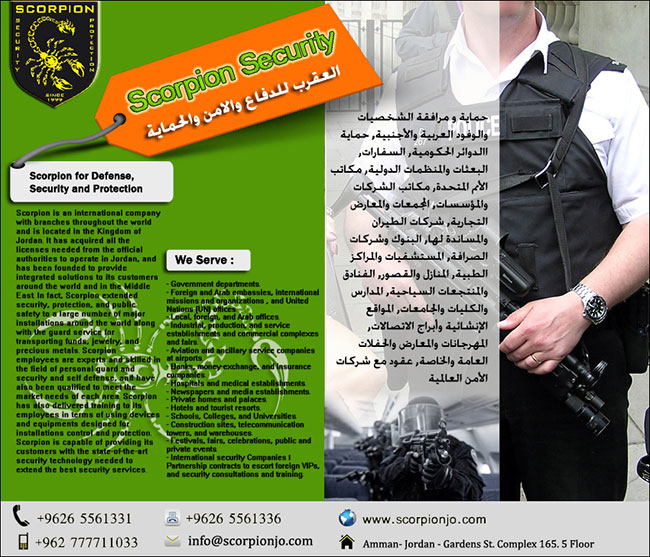 خدماتنا
حماية و مرافقة الشخصيات والوفود العربية والأجنبية, حماية االدوائر الحكومية, السفارات, البعثات والمنظمات الدولية, مكاتب الأمم المتحدة, مكاتب الشركات والمؤسسات, المجمعات والمعارض التجارية, شركات الطيران والمساندة لها, البنوك وشركات الصرافة, المستشفيات والمراكز الطبية, المنازل والقصور, الفنادق والمنتجعات السياحية, المدارس والكليات والجامعات, المواقع الإنشائية وأبراج الاتصالات, المهرجانات والمعارض والحفلات العامة والخاصة, عقود مع شركات الأمن العالمية
Scorpion for Defense, Security and Protection
Scorpion is an international company with branches throughout the world and is located in the Kingdom of Jordan. It has acquired all the licenses needed from the official authorities to operate in Jordan, and has been founded to provide integrated solutions to its customers around the world and in the Middle East. In fact, Scorpion extended security, protection, and public safety to a large number of major installations around the world along with the guard service for transporting funds, jewelry, and precious metals. Scorpion employees are experts and skilled in the field of personal guard and security and self defense, and have also been qualified to meet the market needs of each area. Scorpion has also delivered training to its employees in terms of using devices and equipments designed for installations control and protection. Scorpion is capable of providing its customers with the state-of-the-art security technology needed to extend the best security services.
We Serve:
- Government departments.
- Foreign and Arab embassies, international missions and organizations , and United Nations (UN) offices.
- Local, foreign, and Arab offices.
- Industrial, production, and service establishments and commercial complexes and fairs.
- Aviation and ancillary service companies at airports.
- Banks, money-exchange, and insurance companies.
- Hospitals and medical establishments.
- Newspapers and media establishments.
- Private homes and palaces.
- Hotels and tourist resorts.
- Schools, Colleges, and Universities.
- Construction sites, telecommunication towers, and warehouses.
- Festivals, fairs, celebrations, public and private events.
- International security Companies – Partnership contracts to escort foreign VIPs, and security consultations and training.